Gefreiter Manfred Lindermann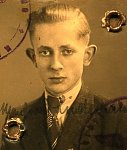 The son of a businessman, Manfred Lindermann was born on 15th July 1925 in Chemnitz. He worked with his father until he was called up in July 1943 to M.G. Ers. Btl. 4. He remained here until August 1943 when he was sent to 3./ Res. M.G. Ausb. Btl. 14. He remained here until June 1944 when he left for Normandy with a transfer unit. He arrived there in early July and was assigned to 12./ Gren. Regt. 1058, part of 91. Infanteriedivision. This division was part of LXXXIV Korps, 7. Armee and was facing the Americans to the east of St. Lo. It had been in action since the first day of the invasion and by now was severely under strength. It had lost 85% of its infantry strength since the 6th June. On 25th July the Americans launched Operation Cobra, their breakout from the Normandy bridgehead. The German lines were ruptured at St. Lo and soon American armoured columns were thrusting deep into the German rear areas. Lindermann's division suffered heavily in this fighting and was practically destroyed. While the majority of German forces fell back to the east and were encircled in the Falaise pocket, the remnants of 91. Infanteriedivision (less those parts that found themselves attached to other divisions) fell back to the south where, after receiving two replacement battalions as reinforcements, it defended Rennes in early August before being compelled to join in the headlong retreat across France. There are no entries in the Wehrpass after July 1944 and, as Lindermann is not listed by the German War Graves Commission, he was probably taken prisoner of war at some point.
Wehrpass Information
Type
Third type, issued by Wehrbezirkskommando Hagen, part of Wehrkreis VI, on 3rd August 1942.
Service number
Hagen 25/18/9/2
ID tag number
Stamm./ MG Ers. Btl. 4 #2134
Units
01.07.43 - 01.07.43 - Stamm./ MG Ers. Btl. 4
02.07.43 - 03.08.43 - 1./ MG Ausb. Btl. 4
04.08.43 - 26.03.44 - 3./ Res. MG Ausb. Btl. 4
27.03.44 - 24.05.44 - Stamm./ MG Ers. Btl. 14
25.05.44 - 16.06.44 - Marsch Kp./MG Ers. Btl. 14
17.06.44 - 07.07.44 - 3./ Marsch z.b.V. 371
08.07.44 - ??.??.?? - 12./ Gren. Regt. 1058
Weapons training
K98, MG34, Pistole 08, Handgranate 24
Special training
None entered.
Awards
None entered.
Promotions
01.03.44 - Gefreiter
Hospitalisation/wounds
None entered.
Copyright © 2001-2007 David Gregory