Unteroffizier Heinrich Brauer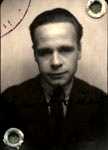 The son of a carpenter, Heinrich Brauer was born in Herne in late 1904 and worked as a grinder and fitter. In July 1940 he was found to be fit for active service and was inducted into Luftwaffen-Bau-Regiment XII, an airforce construction unit, serving with the regiment on airfield construction duties in France from August 1940 until August 1941. He then spent time with replacement and training units and returned to Germany in December 1941. In October 1942, he was assigned to 5. Luftwaffen-Feld-Division Artillerie-Abteilung 2. Batterie, an airforce field division artillery unit, as it was forming at the Truppenübungsplatz Gross-Born exercise area. After only a brief period of training, the division was rushed to the Crimea, where it arrived in December 1942 and assigned to XXXXII. AK for coastal protection duties.
Only a month later, the division was deployed to the Caucasus and retained as a reserve formation of 1. Panzerarmee until the retreat from the Kuban bridgehead began. His division was involved in the defensive fighting around Krasnodar. The unit remained in static fighting under the command of the V., XXXXIV. and then LII. AK of 17. Armee.
In May 1943, the division was placed under the command of OC of the Kerch peninsula on the Crimea and was used for security duties on the Kuban bridgehead coast. As part of the re-organisation of the division during the following months, Brauer was assigned to the divisional replenishment company from July 1943.
In October of the same year, the newly re-organised division was suddenly sent to 6. Armee in southern Russia and soon after its arrival it was assigned to IV. and later XXIX. AK. The division found itself in the middle of defensive fighting for Melitopol. The 6. Armee was unable to resist for long and units had to fight their own way back to the Dniepr in individual Kampfgruppen, suffering heavy losses through the Noga steppe. The heavy losses suffered in October alone, including all three battalions of Luftwaffen-Jäger-Regiment 10 and the staff and 3rd battalion of Luftwaffen-Jäger-Regiment 9, forced these units to be disbanded. When the division was absorbed into the army as 5. Feld-Division (L) at the beginning of November 1943, it only consisted of a Kampfgruppe with 2 Jäger battalions, 2 artillery batteries, the pioneer and signals companies and divisional support elements.
Brauer spent the rest of the war with various replacement and training units in Germany until he was assigned to 553. Volks-Grenadier-Division at the beginning of March 1945. The division had been raised as a Grenadier-Division in July 1944. Shortly after being converted into a Volks-Grenadier-Division in early October, it was shattered during the American advance in Lothringen (Nancy). Attempts had been made to re-establish the division but it was again decimated in late November before gaining full strength. When Brauer joined the divisional support elements it was still not back to strength and was in action again as part of the 19th Army only two weeks later. The division saw action with the 1st Army in the Upper Rhine region in April before entering American captivity in Württemberg.
Wehrpass information
Type
Second type, issued by Wehrbezirkskommando Soest on 6th May 1940.
Service number
Soest 04/33/13/5
ID tag number
Lw.-Baukomp. 1032
Units
02.07.40 - 09.08.40 - Ausbildungs-Bataillon des Lw.-Bau-Regiments 9/XII
10.08.40 - 04.08.41 - Lw. Bau-Komp. 2./2./XII
10.08.41 - 20.08.41 - Lw. Bau-Ers.-Batl. XIII Genesenden Kompanie
21.08.41 - 05.12.41 - Lw. Bau-Ers.-Batl. XIII Ausbildungs-Kompanie
06.12.41 - 27.12.41 - 1./Lw. Bau-Ers.-Batl. XIII
28.12.41 - 01.09.42 - Lw. Bau-Ers.-Batl. XIII 3. Kompanie
02.09.41 - 30.09.42 - Lw. Bau-Ers.-Batl. XIII 5. Kompanie
01.10.42 - 15.06.43 - 5. Lw. Felddiv. Art. Abt. 2. Batt.
16.06.43 - 25.11.43 - Nachschubkompanie 5. Lw.-Felddivision
06.01.44 - 17.01.44 - 2./Feld-Ers.-Batl. d. Lw. Nr. 2
18.01.44 - 19.01.44 - Stammschwadron Fahr-Ers. u. Ausb. Abt. 5
20.01.44 - 02.05.44 - Fahr-Ersatz- u. Ausbildungs-Abt. 6 1. Ausbildungs-Schwadron
03.05.44 - 24.10.44 - Fahr- Ersatz- u. Ausbildungs-Abt. 6 1. Marschschwadron
25.10.44 - 09.02.45 - 2./Ausb.-Schwadron Fahr-Ersatz- u. Ausbildungs-Abt. 5
10.02.45 - 03.03.45 - Ausb.-Schwadron z.b.V. Fahr-Ers.- u. Ausb.-Abt. 5
04.03.45 - ??.??.?? - Fahr-Schwadron 2./1553
Weapons training
Karabiner 98k, Gasmaske DM1
Special training
Fahrer vom Sattel
Awards
None entered.
Promotions
01 August 1941 - Gefreiter
01 July 1942 - Obergefreiter
28 August 1942 - Uffz.-Anwärter
01 January 1945 - Unteroffizier
Hospitalisation/wounds
None entered.
Copyright © 2003 David Gregory